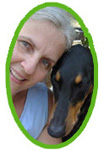 Love Wags A Tail Dog Training provides professional boarding and training, housetraining,
private in-home dog training, and dog obedience classes at 954-684-5288 for Fort Lauderdale, Plantation, Weston, and surrounding areas. Our dog and puppy training programs are designed for busy dog owners looking for obedience training and relief from behavior problems.
Do you love your dog but find some of his behaviors frustrating, annoying, or embarrassing?
My name is Helen Verte Schwarzmann and I'm an honors graduate of The Academy For Dog Trainers, known as the Harvard of Dog Trainers, and a certified dog trainer in Plantation, Fort Lauderdale, Broward county. If you're frustrated with your dog's behavior and are ready for effective dog training, let's talk.
I specialize in board-and-train for puppies, adult dogs, and rescues. Training during boarding is the most effective and efficient way to train dogs who embarrass or frustrate their owners, dogs and puppies who lack obedience and housetraining skills, and dogs who need something to do with their minds instead of acting on impulses. Generally, programs run three weeks, but I offer shorter board-and-train packages to clients who board and train their dogs and pups with me for basic skills while away on vacation or a business trip, and I'm 10 minutes from Fort Lauderdale airport.
The fact is, most dog owners don't want to become pro dog trainers. They want a dog who they can hang out with and enjoy. If this is your desire, then contact me about scheduling boot camp board-and-train for your dog or pup. I'll train your dog so he'll make the decisions that you want him to make. And I'll teach you how to reward those decisions so they remain intact and strong.
Helen Verte Schwarzmann
Contact the professional dog trainer and owner of Love Wags A Tail Dog Training today.
By Helen Verte
Google +