Love Wags A Tail Dog Training, 954-684-5288, provides professional boarding and training for dogs from Fort Lauderdale, Plantation, Davie and the surrounding areas. Our board-and-train dog and puppy training programs are designed for busy dog owners looking for housetraining and/or manners, obedience training for their dogs, as well as relief from their behavior problems.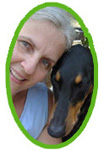 Helen Verte, CTC, specializes in board-and-train for puppies, adult dogs, and rescues. Training during boarding is the most effective and efficient way to train dogs who embarrass or frustrate their owners, dogs and puppies who lack obedience and housetraining skills, and dogs who need something to do with their minds and physical energy instead of acting on impulses.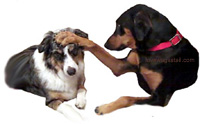 Think on This! Reward your dog with food, pats, and praise for what he does right, and he'll do more of it.
Is your pooch unruly at times?


*
Does your dog embarrass you on walks?
pulling you, lunging, barking at dogs, Cujo-like
*
Do you cringe at your dog's impulsive behaviors?
jumping on people or counters, dashing out doors
*
Do you find urine and feces in the house?
from a pup, rescue, or even after all these years
*
Does your puppy love to gnaw and nip?
chewing, biting, tugging on anything that moves
*
Do you compare your new dog with a past dog?
not smart enough, too smart, hard to train
*
Do you get frustrated when your dog ignores you?
come, come, come, sit, sit, sit, no, no, no!These behaviors can be resolved efficiently through our board-and-train program!
Through training…
* Walking your dog becomes enjoyable.
* Your dog learns to control those impulses.
* You confidently manage your dog's behaviors.
* Housetraining is a relief in the right places.
* Your dog pays attention and listens to you.
Get your dog on the fast-track to good behavior by enrolling him/her in our board-and-train program!
Helen Verte Schwarzmann
Contact the professional dog trainer and owner of Love Wags A Tail Dog Training today.
Certified in Training and Counseling
Certified Pet Dog Trainer-KA
Certified Trick Dog Instructor
Your Dog Trainer for Plantation, Fort Lauderdale, Davie, Weston, Hollywood, Broward County South Florida
By Helen Verte
Google +