I will be moving soon, and I have 4 feral cats I've spayed and neutered and cared for, which I'll take with me. My neighborhood has a multitude of abandoned cats. A Tom cat has been insisting, though, to be part of my cat clan. He is so persistent, by bumping my kitties out of the food bowl, that after months of this, I decided to add him to the pack, which means a neutering/rabies vaccine and an ear notching to prove he's no longer reproductively capable.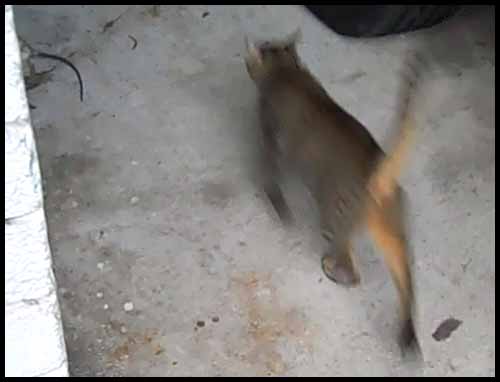 Before I took on this morning project, I went to the front yard to feed 3 of my other kitties. I turned under the carport and was a few feet away from a dead rat! A big one. Another one. That's the 3rd one so far that my kitties have presented me with recently. I am not sure what they think each time I shriek, but apparently it doesn't bother them enough to stop the gifting.
After I finished cleaning the rat off the ground, properly thanking the cats and then feeding them, I went back to getting ready for the kitty neuter project.
The spay/neuter clinic I take feral cats to charges $37 for the neutering. They also moved further away recently, and I knew the drive would be really tough. I caught the cat in my Hav-a-hart trap this morning, and off we went.
I'd drunk quite a bit of tea and water, and was starting to feel it as we neared the location. To top it off, one exit ramp away from getting closer to the destination, we encountered bumper-to-bumper traffic. So I took the off-ramp off before it, and it was mayhem.
I often wonder what the engineers were on when they designed some of the roads in Florida. It was only because I encountered considerate people, another gift, who let me change my lane after exiting the toll booth from the right to three lanes over, so I could make the left turn I needed to.
We then met up with road construction, and the Garmin itself stopped working once I got to where the street changed directions from south to north. But I found the location, and ran up with the cat, thinking the faster we check in, the faster I can get to a restroom.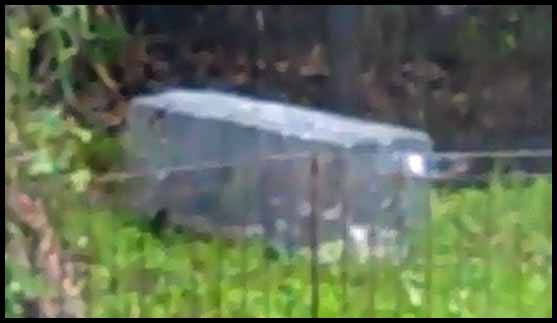 We were 3rd in line. I distracted myself with the scenery until we got to the front, where I immediately asked where a bathroom was. The input director told me I had to go to the gas station behind them. But the good news was, the fee for the cat's neutering was waived today! Free! That was such a nice surprise. Apparently the county is picking up the bill. And I thanked the input director for all that and more.
I left the cat, and drove to the gas station. What did I see right on the ground? Paper money. A bill. I jumped out of the truck and picked it up. $20! Wow! That was a first, and I thanked the Powers That Be for the gift. I went inside to find out where the bathrooms were and the clerk said the key had broken (seriously), so the bathrooms were unavailable.
By then, I said screw it, and decided to make it home without a pit stop. I drove briskly with only one thing on my mind. Relief. I thought I had made excellent time, and as I turned off the exit to my home, the off ramp was back up as was the street. Geesh! I breathed deeply and waited it out. There was nothing else to do but that.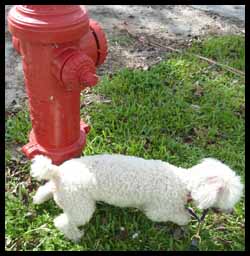 Yes, I made it home, quite uncomfortably, but I did. The moment I'd been waiting for was such a relief. I even heard the angels singing! And so I ask you two things. Have you ever been in such a predicament? And wasn't the moment of relief very self rewarding? Because that's what it's like for a dog when he's been punished, yelled at, hit, nose rubbed in its product, if caught going potty or having done so in the house. The dog becomes scared to eliminate in front of his owner, so he holds it in, sometimes to the peril of comfort. And he waits until the one who punishes him is not looking, so he can finally relieve himself. And the cycle continues. Housetraining is not achieved with this process.
Avoiding the punishment and the relief itself makes all that discomfort worth the wait. This is why punishing a dog for housetraining mistakes makes housetraining all the harder or impossible to accomplish. Never punish a dog for housetraining mistakes.
Learn how to housetrain correctly without punishment, if you want to do it yourself, by purchasing our on-line Housetraining 123 webinar. If you want someone else to do the initial, more difficult part of your dog's housetraining, contact us for board-and-train rates and availability. We'll be glad to help your dog feel comfortable eliminating in an appropriate place.
Helen Verte Schwarzmann
Contact me
Certified in Training and Counseling
Certified Pet Dog Trainer-Knowledge Assessed
Certified Trick Dog Instructor
Your Board-and-Train Dog Trainer for Weston, Plantation, Fort Lauderdale, Davie, and Hollywood in Broward county south Florida