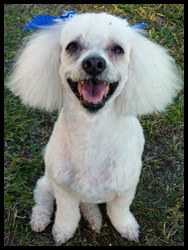 Sammie's an energetic, 10-year-old dynamo. He has a big prey drive, so can't be placed in a home with other small varmint pets, but would be all right with friendly smaller dogs his size or mellow larger dogs.
Sammie hunts cats, lizards, birds, snakes, squirrels, hamsters, any varmint that moves and chases bikes, cars, skateboarders that go by the front fence. He will even chase and bark at a low flying plane.
He's had a lot of training. His graduation video from the summer of 2016. His owner was no longer able to care for him, so he came back to me, the trainer, for placement.
He was trained purely with reward-based, no-force methods and his placement will be in a home who is in tune with no-force methods. No choke, pinch, or shock collars. This is another of his videos and more recent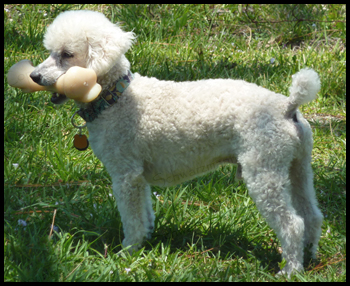 Sammie's lovable, loves to play ball, and is a very good "only child." He can toss a toy around and chase it all by himself. He is good with other friendly dogs his size, but would prefer to be the center of someone's life and be an only dog.
He absolutely needs a fenced in yard at least 4-feet tall, preferably privacy fence. If the home has lizards to hunt, this is a plus!
Sammie eats Royal Canin Veterinary Diet Selected Protein Adult PW. He's allergic to fleas and needs to be kept on a monthly flea preventative. Triflexis was what his former owner used. He's been well taken care of, has been on heartworm preventative, up-to-date on vaccines, and because he's Poodle-ish, he needs grooming every 6 weeks. We ask for him to be bathe in hypoallergenic shampoo at the groomer.
Sammie is located in Lee county, Florida, and will be adopted locally. Contact me if you are interested in Sammie.