Helen Verte Schwarzmann, CTC, CPDT-KA, CTDI
Teaching is my specialty. I earned a B.A. in Linguistics and two post-graduate certificates, one in teaching adults and one in teaching English as a Second Language. I taught ESL for a decade and while attending college, I taught tennis for two parks and recreation departments. I started my dog training education in the 80's in obedience classes taught by Dick Koehler, but I started my 180 degree turn from pain-based training when I first heard of clicker training popularized by Karen Pryor.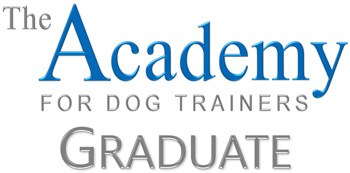 Later, I moved onto a rigorous 2-1/2 years of studying, completing assignments, and proving training competence at The Academy For Dog Trainers. This culminated in a 6-hour final exam consisting of 200 questions. I proudly say I graduated with honors, and now have the prestigious CTC designation, Certificate in Counselling and Training, following my name. The Academy was created and is run by Jean Donaldson, an award-winning author and premier dog trainer. Through her guidance, I've learned how to apply the behavioral science of Ivan Pavlov, B.F. Skinner, and David Premack to dog training. The Academy's syllabus and webinars cover an expansive territory of professional dog training. This is Jean's quote from The Academy's website about her graduates.
Our Graduates are the Elite

Dog training is currently unregulated. Unlike for veterinarians or veterinary technicians, there is no required minimum education, no standard of care, no constraints on claims, no mandatory informed consent, and no consumer protection. Academy graduates have completed what is universally regarded as the most academically rigorous and technically challenging curriculum in the world for dog trainers.

All our students came to The Academy seeking excellence, and graduated with a profound understanding of their craft. They've studied in depth the science behind animal learning, animal behavior and dog behavior, and have been trained in a wide variety of best practices in dog training and behavior modification. Our graduates also adhere to a code of professional and ethical conduct that includes transparency and informed consent about methods, side effects, and use only the most modern, evidence-based, humane and force-free practices.
Prior to the Academy, I became a Certifie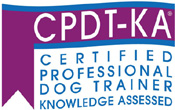 d Pet Dog Trainer-Knowledge Assessed. The requirements behind the CPDT-KA designation included 300 hours of experience in dog training, recommendations from another certified trainer, a client, and a veterinarian. The test was 4 hours long and contained 250 questions on instruction skills, animal husbandry, ethology, learning theory, and equipment. Thirty-six continuing educations units must be earned every 3 years to continue in good standing.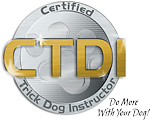 My first certification was through Do More With Your Dog, where I earned the designation CTDI, Certified Trick Dog Instructor. The requirements for this certification included training a dog through an intermediate trick dog title. I trained my dog, Dudley, through his Champion Trick Dog. There were 25 short essay questions to complete in the sections of handling training problems, training style, people skills, and professionalism. The video portion of the Trick Dog Certification included demonstration of my dog doing 5 tricks, of teaching 3 out of 5 of a list of tricks to a student, and choosing one of three tricks demonstrating its teaching using a clicker.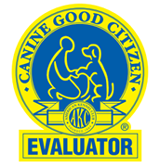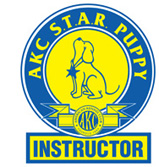 I am a Canine Good Citizen Evaluator and S.T.A.R. puppy Instructor through the AKC.  The requirements for this privilege were to have at least 2 years of experience working with owners and their dogs, experience working with a variety of breeds and sizes of dogs, and in good standing with the AKC.  There was a short, open-book test and was based on the content from the Evaluator's Guide.
I created an on-line webinar, Ho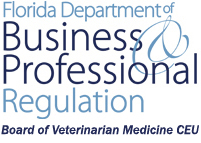 usetraining 123, which affords owners a convenient, in-home humane, effective housetraining protocol. This program also applies as continuing education units for dog trainers through the CCPDT, IAABC, and KPA. I also created a veterinarian version of the program, and became the only dog trainer in the state of Florida who is a provider of continuing education for the Board of Veterinary Medicine, State of Florida.
My Dog Training Method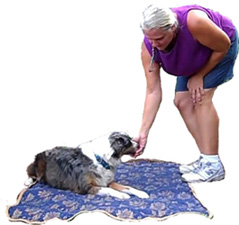 The reward-based method grows the bond between humans and dogs and is flexible enough to teach basic behaviors such as house training and loose leash walking to tricks such as crawling or skateboarding and even rehabilitate behaviors such as resource or food guarding. Dogs need their minds worked out as much as their bodies, and the reward-based method exercises both. Dogs are incredibly happy and eager to learn and work when the trainer uses techniques based in rewards, love, and smarts instead of brute force. It's a joy to witness!
Please visit My Dogs' page to view videos of the results of my training with my personal dogs. I compete in AKC events such as Rally, Obedience, and Agility. I also love teaching tricks to my dogs, and have trick titles on my own dogs. But most of all, my training methods have resolved many behavior issues in my own dogs that have made living with them a joy, and I believe they feel the same about living with me.
If you're thinking of hiring a dog trainer, please, for the well being of your dog, view Three Questions to Ask Your Potential Dog Trainer first.
Insured

Love Wags A Tail, LLC is insured through Business Insurers of the Carolinas.
By Helen Verte
Google +